This Art Fair 2021
From 26-29 August my work will be on show at This Art Fair, at De Kromhouthal in Amsterdam. I'm translating a part of my research into seaweed and algae into a new presentation, so make sure you come visit booth 28!
Tickets can be bought through
this
link.
Talenthub publication

Read and see everything about our work and progress during the Inversie program. It is a limited edition including some very cool postcards attached to it. You can send a message to
sanne@inversie.nu
if you want to get your hands on one!
Studio visit from Omroep Tilburg
Omroep Tilburg visited my studio and interviewed me for their program 'CulTuur' about my fascination for nature and technology and my work process. We also talked about my experiences during Talenthub Inversie. You can watch the full interview via the link below!
Direct link to the video

Schat van Makers

Last week, from 3-19 May 2021, 'Stad van Makers' (City of Makers) and Ateliers Tilburg hid work by artists from Tilburg throughout the city. It is very nice to hear that mine has been found and now has a nice spot!
My application was a visual experiment of my new project, in which I research the role and innovation of algae as a new material.


REOPENING! Festival CIRCULATION(s)

After long weeks of uncertainty, I'm very happy to announce the reopening of Festival CIRCULATION(s)!
The festival reopens from June 5 to August 9 2020
, at Centquatre, Paris. In addition to the reopening, an online exhibition will be launched on May 25. This is a unique opportunity to see the festival when you don't have the chance to visit it.
For now only the exhibition spaces will be accessible, no events will take place. This reopening is only possible with precautionary measures, so there will be limited access. All the information about the measures and the reopening can be found in the
newsletter
which is send out today.


Inversie kick-off

Tuesday 12 May 2020 we had our online kick-off for the Inversie program. It was great to see and meet everyone during these weird times.
This marks the start of the first phase, with the main goal of writing our development plan. Together with my mentor, Klaartje from Kunstpodium-T, I'm making big steps already.
Talenthub Inversie

I'm very excited to finally share that I have been selected for the talent development program Inversie (inversion)! The upcoming year (2020-2021) I will work together with Kunstpodium T and Talenthub Inversie on my professional practice. The Talenthub guides young visual artists to an independent professional practice.
You can follow our 15 month journey on
Instagram
or
Facebook
! More information about the this program can be found
here
.
CIRCULATION(s) #stayhome contribution
"From Minsk to Berlin, from Paris to Helsinki, From Paris to Barcelona, the whole festival team and the 45 artists of this edition, we will deliver to you day after day our vision of this unprecedented situation #stayathome."
Festival CIRCULATION(s) is starting a large correspondence around the image, because for our own good and that of others, we all have to stay home. This is my contribution.
TELEGRAMME #13: Not being able to go outside makes you inventive. Inspired by Peter Frasers 'Material' I started to wander around my house and studio #allmatterisequal

Vernissage Festival CIRCULATION(s)

As of today, 14 March 2020 , the 10th edition of Festival CIRCULATION(s) is officially open. Unfortunately because of corona precautions, the birthday party and performances are postponed until the last weekend of the festival. The good news is that the festival is open for the public (limited to 100 persons at a time) so you can see my work 'How to Farm a Fish' exhibited amongst a lot of great work from other artists. The works are on show until 10 May 2020.
Merci to everyone at the festival who made everything possible!
UPDATE 15/03/2020: the festival is due to the new French regulations closed until further notice.
'How to Farm a Fish' at Festival CIRCULATION(s)

I'm happy to let you know that I'm part of the 10th edition of Festival CIRCULATION(s)! The festival is dedicated to emerging photography in Europe and will take place from 14 March to 10 May 2020 at Centquatre, Paris.
I'm very excited to be showing my work 'How to Farm a Fish', which shows the research on how innovation can help create a more sustainable food industry.
More information about the work, the other participants and the festival can be found
here
.
*Insert genious exhibition title over here
I'm showing a small part of the first research I did for my new project 'Close encounters (working title)', together with work of 11 other artists who were also part of the program at
WitteRook
.
On Sunday 24 November at 15.00 I'm giving an Artist Talk together with Egbert Jonkers, moderated by Gert-Jan van den Bemd.
Opening Friday 22 November 2019: 19.30-22.00
Saturday and Sunday: 13.00-17.00
Stokvishallen, Belcrumweg 58, Breda
Selected for De Beeldmakers

My work got featured on
Vandejonglikes
as part of the competition De Beeldmakers, in which Vandejong and Het Parool scout the most promising new image makers in the Netherlands.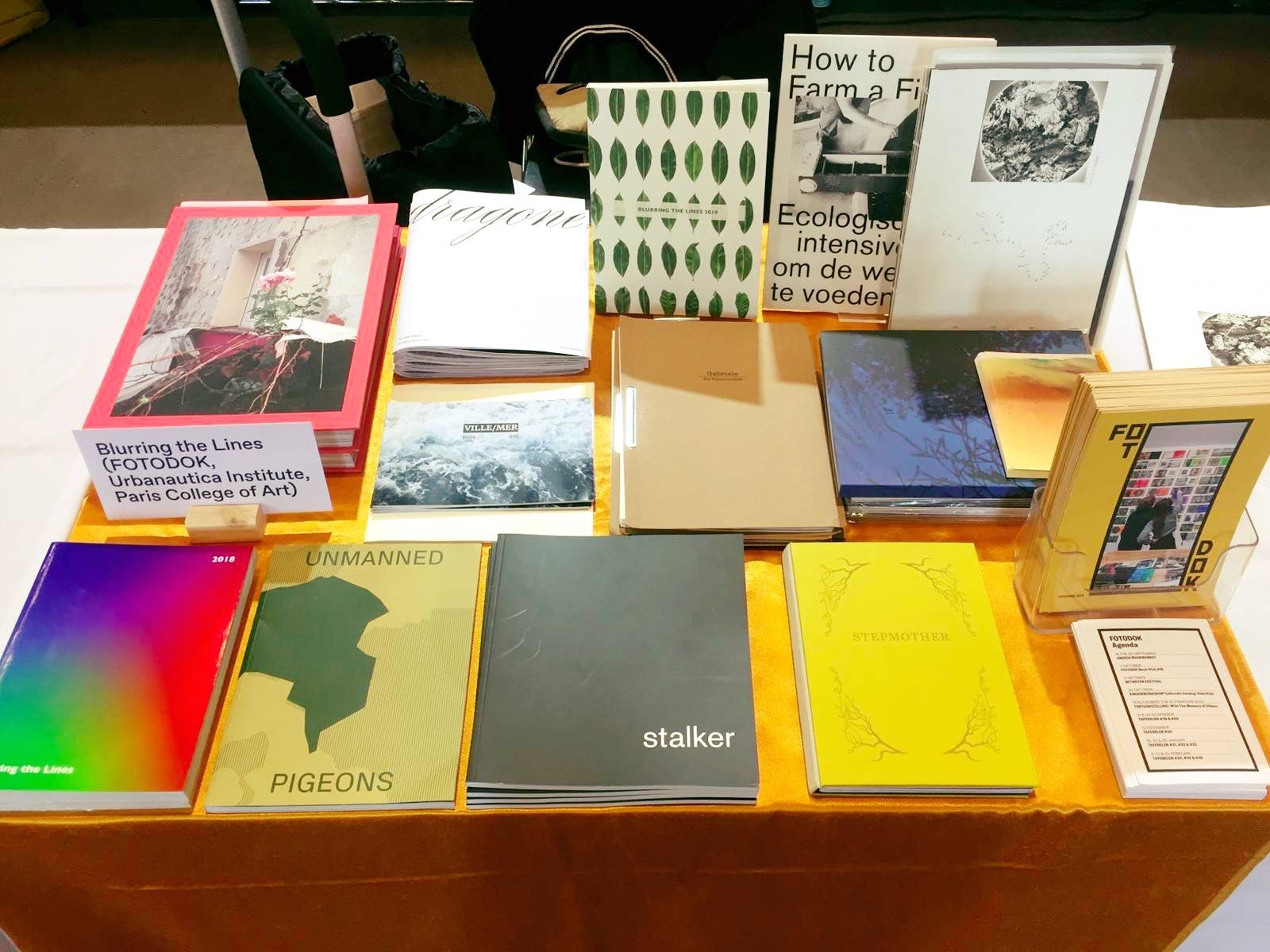 'How to Farm a Fish' at UNSEEN book market

The dummy of 'How to Farm a Fish' is on show at the UNSEEN book market from 20-22 September 2019, at the stand of FOTODOK and AKV|St. Joost.
Homerun#1 at Willem Twee art space

My work is part of the exhibition 'Homerun#1, Nature' at Willem Twee art space in 's-Hertogenbosch.
"Homerun offers artists the opportunity to display their work in a special context. For the next 5 years we will bring one important piece of Dutch art to Willem Twee every summer. The first edition of Homerun has the theme Nature and the key work is "Garden Awakening" from 2018 by Marc Mulders. The work serves as a prelude to the group exhibition."
Participating artists:
Akmar, Jasper van Aarle, Michiel van Bakel, Danielle van Broekhoeven, Tessa Chaplin, Paul Corvers, Mels Dees, Gerard Van Den Dobbelsteen, Mandy den Elzen, Anjès Gesink, Fred Geven, Noortje Haegens, Jenny Imker, Bas Ketelaars, Jenetta de Konink , René Korten, Fang Mij, Marc Mulders, Kathelijne Roosen, Ies Schüte, Debbie Schoone, Shirley Welten and Helene de Winter.
1 June to 7 July 2019, opening Saturday 1 June, 3.30 p.m.
Willem Twee music and visual arts
Boschdijkstraat 100
5211 VD 's-Hertogenbosch
More about the exhibition can be found
here
.


Publication in GRAIN Magazine

GRAIN Magazine published a special issue! It includes my work and the other projects of New Talents 2019.
It's an online magazine so you can view the publication
here
.
Published video interview for BPM 2019

Recorded and edited by Juan Moncayo
Supported by Nikon Serbia, UK Stari Grad and netherlandsworldwide.nl
Direct link to the video


Interview with BNdeStem

A while ago I did an interview with BNdeStem, about my work and experience in Belgrade. This interview was published in a couple of local newspapers (24-04-2019), you can read it also online (Dutch only).
A link to the article can be found
here
.

© black and white pictures by Grebo Gray
Belgrade Photo Month New Talents 2019

I can finally let you know that I am the Belgrade Photo Month New Talents winner! They received 94 proposals and in total 40 different countries were represented.
I was invited to come to Belgrade to attend the opening of the festival. Four days full of photography, an interview with the Serbian national television, exploring the city and meeting new people, it was amazing! The exhibition is on show from 28 March until 19 April at Ustanova Kulture Stari Grad in the center of Belgrade, Serbia.
Thanks to the team of
Belgrade Photo Month
and the
Embassy of the Netherlands in Serbia and in Montenegro
for making this trip possible.


I'm taking over the Instagram of Rizoom
From 25 February until 2 March 2019 I'm taking over the Instagram of Rizoom. Rizoom is an experimental platform for all kinds of artists in the Netherlands. Every week they have a different take-over on their Instagram.
If you are curious about not yet shown - and behind the scenes images, make sure you follow them!


Blurring the Lines is coming to Utrecht
"The aim of Blurring the Lines is to select, exhibit and publish projects made by talented young documentary photographers that recently graduated from art academies from all over the world. They deserve to be seen and present their work to a wider audience, outside the walls of the art academies. Together, the 22 projects that where selected for Blurring the Lines 2018 are a representation of the rapidly changing field of photography. These young photographers give us a new perspective on the important topics in society: from climate change, to our new relationship with food, and our redefining identities in a globalizing world. It is remarkable to see the social engagement these photographers have with the world around us. And the need they feel to offer a different perspective and make a change."

This Friday, the Blurring the Lines exhibition which was on show in Paris in November, will open in Utrecht. The official opening will be from 16.30-18.30 at HKU School of Media, Oudenoord 700 in Utrecht.
Our works will be on show until 15 March 2019.

SBK Sprouts Young Talents 2018

'How to Farm a Fish' got selected for the fifth edition of SBK Sprouts Young Talents. The curators selected the best graduation projects of this year.
You're invited to join the opening on Thursday 15 November from 18.00-20.00!
My work, and that of 45 other artists, will be on show until 25 November 2018.


Blurring the Lines, Paris College of Art
I'm super excited to share that my work 'How to Farm a Fish' will be on show at the Blurring the Lines exhibition during ParisPhoto in November! The exhibition will take place at the Paris College of Art from 6-15 November 2018 and is curated by Lisanne van Happen and Steve Bisson.
More information can be found
here
.


IMPACT during Dutch Design Week 2018
IMPACT shows work of graduates from AKV|St. Joost in 2018. My graduation work 'How to Farm a Fish' will be presented at TAC (Temporary Art Centre), during Dutch Design Week 2018, next to the works of Jolein Melis, Tijmen Meijer, Emma Koole, Wikke Andeweg, Sjors Heijs, Roos de Bruijn and Mauritz Seerden.
Come visit us from 20 - 28 October!
Open every day from 11.00 - 19.00
Temporary Art Centre
Vonderweg 1, 5611 BK, Eindhoven
Alumni aan de Schie, Re:Search | Fotofestival Schiedam (18 - 28 October)
In "Alumni aan de Schie", five recently graduated photographers from various art academies in the Netherlands present works in which they show their own personal style, research and subject matter. With their graduation work, the final step is taken towards completion of years of learning and experimentation. These works represents the first step towards the outside world, in which the alumni will find their own place in the photographic field.

Together with the work of four other alumni, 'How to Farm a Fish' will be on show at Studio Jacques Tange. More information can be found at
the website of the festival.
Alumni aan de Schie, Re:Search | Fotofestival Schiedam (18 - 28 October)
Studio Jacques Tange
Schie 50-52
Schiedam
Opening hours: 11:00 - 17:00
Closed on Monday and Tuesday

Publication in science magazine VORK
A part of the essay that science-journalist Joost van Kasteren wrote for 'How to Farm a Fish' is published in the September issue of VORK magazine, including seven pictures from the project.
VORK is a platform about and for people involved in the food chain. VORK wants to 'prick' opinions and stimulate thinking about food and how it's created.


Witte Rook on Sunday afternoon
"There is more than one way to describe a studio. It is a place to work but also a space to receive guests. In the case of Artist in Residence there is more than a studio for work, it is also a matter of making connections in which the program provides. There is time and space for experiment, to work, to reflect but also to meet.
In our series of informal lectures, Witte Rook on Sunday afternoon, we focus on the personal experience of being an Artist in Residence. Debbie Schoone (visual artist, participant WKNDX) Heidi Vogels (artist, DutchCulture | TransArtists) and Chantal van Rijt (visual artist, participant International Talent Program 2016 BredaPhoto) tell more about what this special way of conducting your practice means for them. What are the differences between AIR programs and how is that meaningful for their work and ambitions? We also want to invite you to visit the AIR studios at Witte Rook where the International Talent Program of BredaPhoto takes place."
On Sunday, September 23 2018, I will give a talk about my experiences while doing a residency at Witte Rook. Curious? Then come listen, it's free! You can find more info
here
.


How to Farm a Fish published by NRC in Beeld

A part of my work 'How to Farm a Fish' got published by NRC in Beeld. This is my first publication in a national newspaper.
You can read the whole article
here
.
My graduation work 'How to Farm a Fish' is selected for the second edition of ARTY PARTY!
"For Melkweg Expo photography represents the driving force in the arts. Therefore, the photography selection of ARTY PARTY will be on display till the 26th of August in Melkweg Expo. Our Arty Party scouts have handpicked each of these photographers from the pool of talented art graduates from all over the Netherlands. So don't worry if you missed the graduation shows, because during the entire month of August, Melkweg Expo flaunts the most extraordinary and surprising photography!"
Opening 27/07/18 at 19.00
More info about the opening
here
and buy your tickets for the party
here.


HAPPY PEOPLE: the graduation show of the photography class of 2018, AKV|St.Joost

Adress and opening hours:
AKV|St. Joost, Beukenlaan 1, Breda
30 June - 4 July 11:00-18:00
and 3 July 11:00-21:00
Support us by buying a catalog via
our website
.
You can find more information and updates
here
and
here
.
The Happy People are: Wietse van Bezooijen, Joppe Blonk, Naomi Breuk, Cynthia Cats, Frijke Coumans, Marc Elisabeth, Leonie van den Ende, Marieke Gielens, Femke Anne Kamphuis, Elena Kooijmans, Niko Lee Gail, Orthya Manuputty, Martin Memelink, Emma Metz, Debbie Schoone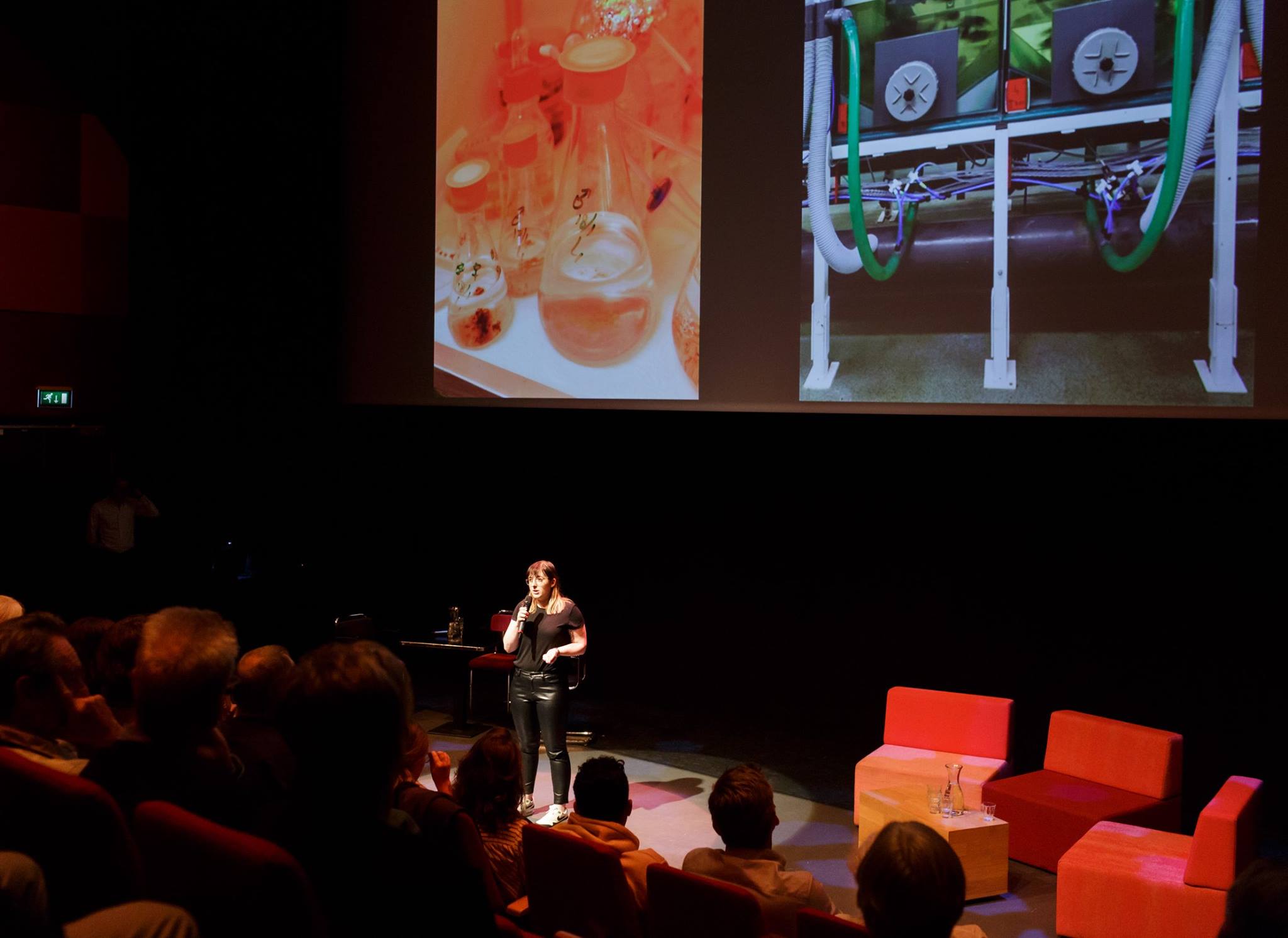 © Fred Ernst
De Donkere Kamer Rotterdam #15
On Wednesday evening, May 16, the fifteenth edition of the talk show '
De Donkere Kamer Rotterdam
' took place. This talk show revolves around contemporary photography. The evening consists of short interviews and current discussions about photography and attention is paid to interesting events and exhibitions. Some guests this evening were Martin Schoeller, Anaïs López and Daniëlle van Ark, and the evening was presented by Anne Ruygt and Marc Prüst.
Part of the evening is the pitch: three photographers pitch their project, and in three minutes they have to convince the audience why their dream project needs to be financed. The visitors determine how the proceeds of the evening are distributed among the three photographers. I was one of the three photographers this evening.
WKNDX residency at Witte Rook
From 12/03/18 until 25/03/18 I worked at Witte Rook. Witte Rook is a local art and culture platform from Breda. One of their activities is hosting WKNDX, a two-week residency, which is concluded with an exhibition. I submitted my graduation research to the open call, so that was where I was working on. In my graduation project I'm doing research on the question how innovation in the food industry contributes to a sustainable world. To visualise this, I focus on aquaculture. What do these developments actually look like? Is it as clinical as expected? Through visual research I show how this innovation looks, because I am convinced that the future lies in fish farming on land.
Witte Rook wrote an article about my work and this period. You can read it
here
.